Spendenübergabe an Frau Susanne Frank vom Förderkreis TDCC und Thomas Ferber von INNEO Solutions
Jede Spende ist wichtig und kann mithelfen, die Welt zu verändern. Auch das Team von INNEO ist sich dieser sozialen Verantwortung bewusst und versucht unbürokratisch dort zu helfen, wo Hilfe am dringendsten benötigt wird. INNEO stellt durch einen direkten Kontakt zu den Projektverantwortlichen stets sicher, dass die Spenden direkt und vollständig bei den Bedürftigen ankommen.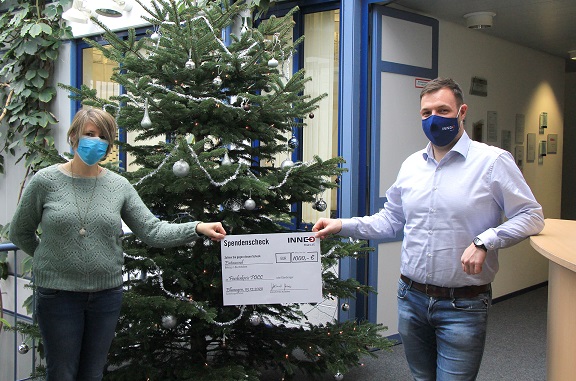 Corona - Update 2020
COVID-19 Palliative Support for TDCC
25.04.2020 - In Nigeria, there are officially over 1000 Corona cases but due to lack of testing, it is clear these numbers are greatly underestimated. TDCC was supposed to re-open on Monday, 27th April 2020 but we are still on lock-down. We don't know when the lock-down will be lifted. We believe that even when the lock-down is lifted, we must start school carefully and gradually. Our school buses are usually heavily packed with our children, so we cannot resume with that till post Corona. Also, our nursery school children will be advised to stay at home because it is almost impossible to keep our little ones from touching each other. For our children in the primary, we also hope to start slowly first with the State and Federal exam class of primary 6. They are the oldest ones in the primary. The primary school school has six classes ranging 1 - 6. So the plan is to start from primary 6, watch the situation and see how it goes before moving down to other primary classes. Then to our most special ones who are also at the Sheltered Workshop, we can unfortunately not let them come back to school yet. We have such loving special children and adolescents who show affection physically. They will hug you and each other. The students we risk opening for, (of course when the ban is lifted) are our secondary school students. We hope that with adequate education, supervision and based on their age and maturity, they will be able to practice physical distancing successfully. Also, our boarding houses must stay closed for the majority because it will be very difficult to keep physical distancing under control here. The only exception would be those bigger secondary school children who may be able to practice physical distancing. We have some children with speech and hearing impairment who are in the secondary school and live in the dormitory. Only these ones will be taken back for now. Bearing this in mind, it means we will have relatively low turnout compared to our usual numbers. We have 160 students in the secondary school. In total we have 1400 students. About 400 of them don't pay school fees. So roughly 1000 children pay subsidized school fees. These fees generate about half of what we need to run the school. The other half needed is gotten through donations from you, our most loving and loyal family, friends and your contacts. So, if the money we generate is reduced by as much as three-quarter, we are faced with the reality of not being able to pay our staff. Hunger is a reality here. Corona has affected the entire world in such an extreme way but here with the hunger and starvation experienced, it is even more difficult. Our staff will face this problem if they are not paid. Our young mothers and fathers who work with us equally have mouths to feed. So what we hope to get is going to reach children in need as well. We also plan to with these funds provide food packages like rice, powdered milk, beans and such for our special needs children whom we can reach. So in any way you can help, we deeply appreciate. No amount is too little to make a difference. In summary, there are many conditions militating against people here adhering to social distancing, one is the attitude that it will not reach us because of the hot weather. Then poverty due to the social lock-down because many people otherwise get what sustains them on a daily basis. Government promised aid to families in need but it is not forthcoming. Facilities and manpower in the Nigerian health sector are very poor because there are many cases who do not report and if they report, do not get treatment. There is lack of testing kits, oxygen, ventilators, isolation wards, intensive care unit. There is not enough drinking water available, not to talk of water to wash hands every 30 minutes under running water. Therefore we are expecting a long haul which will bring the following problems: 1. We cannot open fully for a long time. 2. We cannot afford to dismiss our Staff who we have trained and are hard to recruit. 3. Therefore we must continue paying their salaries. 4. Our special needs children need to be reached with palliative assistance of food and vitamins. 5. What sustains the centre namely donations and school fees (usually subsidized) can no longer be enough because school fees will fall short of the usual amount collected. 6. Due to the Corona times, families have no money left to pay school fees which will mean further shortfall in school fees.
It is on this basis that we are asking for your kind help.
Thank you. Esther Ebigbo --- --- --- --- --- --- --- --- --- --- --- --- --- --- --- --- --- --- --- --- --- --- --- --- --- --- --- --- --- --- --- --- --- --- --- --- ---
Termine 2020
Für die Inhalte sämtlicher hier aufgeführter Referenzen (Websites und Referenzen) wird keine Haftung übernommen. Die Links dienen der Hilfestellung und einfacheren Orientierung. p>
Vorstandssitzungen
Der dafür vorgesehene Termin musste aufgrund der aktuellen Situation (Corona) verschoben werden. Ein neuer Termin wird noch bekannt gegeben.
*** HINWEIS: alle nachfolgenden Termine sind abhängig von der aktuellen Lage zu Corona ***
Samstag, 28.11.2020 - Sonntag, 29.11.2020, Sonntag, 06.12.2020
1. und 2. Adventswochenende, Weihnachtsmarkt in Ehingen am Ries Du findest uns hier mit unserem TDCC Stand. Schau vorbei und entdecke noch das ein oder andere kleine oder auch große Weihnachtsgeschenk für deine Lieben.
Freitag, 31.07.2020 - Stuttgart
Infoabend und heilige Messe in der Kirchengemeinde St. Konrad in Stuttgart
Sonntag, 19.07.2020 - Wassertrüdingen
Afrika - Karibik - Festival https://www.afrika-karibik-fest.de/
Donnerstag, 16.07.2020 bis Sonntag 19.07.2020
Blasius Festival in Fremdingen https://blasius.online/ Hier sind wir wieder mit einem Stand vertreten.
Donnerstag, 11.06.2020
Wie jedes Jahr, geht auch dieses Jahr wieder der Erlös des Brauereifest im Kloster Mallersdorf als Spende an das TDCC. Wir freuen uns auf das schöne Fest und bedanken und schon jetzt von Herzen für euer Engagement. p> --- --- --- --- --- --- --- --- --- --- --- --- --- --- --- --- --- --- --- --- --- --- --- --- --- --- --- --- --- --- --- --- --- --- --- --- ---
Update from T.D.C.C. in Corona Times
09.04.2020 - Due to the record of cases of Covid 19 in Nigeria and in line with the directives from the Nigerian Federal and State Government, all schools in Nigeria including T.D.C.C. are closed till further notice. We had to round off abruptly and close two weeks earlier than scheduled. Gladly, we were able to finish our curriculum for the school term. Our children did their exams and were safely sent home. And so, we can rest at home knowing all the children need to do during this time is their holiday home work. Therapeutic Day Care Centre (T.D.C.C.) also Therapeutic Inclusive Schools is located in Abakpa-Nike; a densely populated urban area of Enugu, Nigeria. Abakpa-Nike is known for its busy market. It is always alive with hustle and bustle. So you can only begin to imagine the uphill task the Government faces in trying to keep people indoors. Let's not forget that many people make their daily source of living from the market. A day without the market equates to a day without money made to buy food in such instances. It is certainly not an easy situation. Like in many other countries accross the globe, only essential work is permitted. Trading on non-essential goods is prohibited. Abakpa-Nike is jokingly referred to as Abakpa-Ntike by locals. ''Ntike'' meaning those who do not hear or heed to advice... the stubborn ones. There are however plans by the Government and private individuals to provide "Relief Packages" for its citizens. What can we do but hope for the best and pray this pandemic soon be over. Before our closure, we educated our children on the reasons for the early start of holiday and encouraged them to continue the practice of frequent handwashing amongst others. And here yet again we face the reality of lack of running water and its availability in our region. We also sensitized our Staff by holding a Question and Answer session after our children were sent home. This was done out in the open where each individual maintained physical distance from the other. The Staff were all paid and given an extra financial bonus to help them stock up on food items. Hydroxychloroquine and Azithromycin were handed out to each Staff. We thought that since we have the regular challenge of malaria and typhoid fever, these medications would still come in handy. Our school telephone line remains open to our parents/guardians who may possibly need support and/or questions in this difficult time. While hanging on to our trust in God and trying our best in our capacity to do what we can, we wish everyone a safe and healthy physically but not socially isolated stay at home. See you all very soon. Management T.D.C.C. p> --- --- --- --- --- --- --- --- --- --- --- --- --- --- --- --- --- --- --- --- --- --- --- --- --- --- --- --- --- --- --- --- --- --- --- --- ---
*** NEWS *** Alles in Bewegung *** NEWS ***
Und wieder was geschafft!
Das Dach wird repariert
(2019) Nach 40 Jahren war es an der Zeit, das Dach zu reparieren. Die Finanzierung wurde vom TDCC sowie der Eltern-Lehrer-Vereinigung vor Ort gestemmt. Wir freuen uns über einen weiteren kleinen Baustein in der Entwicklung unserer Einrichtung.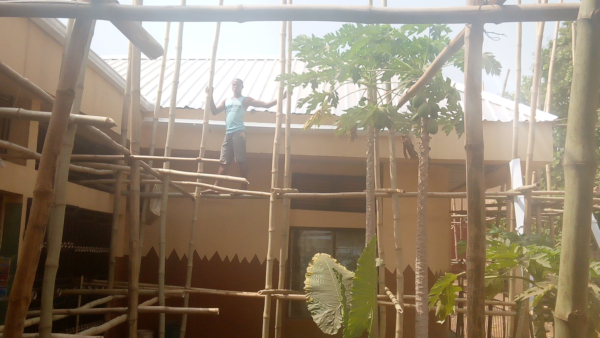 p>
Wechselkurs
Die Wechselkursspanne, für die bis jetzt in diesem Jahr getätigten Geldtransaktionen, beträgt
1 Euro zu 370 - 400 Naira
nach Abzug von Transfer- und Bankkosten. (Stand: September 2019) p>
Das TDCC und seine Zahlen - 2019
Das TDCC gibt zur Zeit mehr als 300 Menschen eine verlässliche Beschäftigung. Leute aller Altersstufen arbeiten bei uns mit. Viele junge Menschen können sich durch ihre Anstellung bei uns eine berufsbegleitende Weiterbildung leisten. Auch ältere, pensionierte Professionelle können bei uns noch tätig sein. Das TDCC leistet also einen wichtigen Beitrag auf dem Arbeitsmarkt in Nigeria, wo sehr viele Menschen eine regelmäßige, fair bezahlte Beschäftigung vermissen. Etwa ein Viertel der Beschäftigten in unserern Einrichtungen wird direkt von den Eltern, deren Kinder eine schwere Beeinträchtigung haben, bezahlt. Es handelt sich dabei um Eltern, die eine individuelle Betreuung für ihr Kind bevorzugen und sich das leisten können - deren Kinder profitieren auch direkt von dieser Individualbetreuung. Dies entspricht etwa der in Deutschland bekannten "Schulbetreuung". Viele unserer Mitarbeiterinnen und Mitarbeiter bleiben über viele Jahre bei uns. Wir haben einige, die schon seit mehr als 20 und 30 Jahren bei uns mitarbeiten. Im Januar wurden es nunmehr 40 Jahre, seit der Gründung des TDCC. Wir haben dies ausgiebig gefeiert. Kinder, Lehrer und der Elternverband der Schule haben sich mit viel Herz in die Feierlichkeiten eingebracht. Insgesamt werden ca. 1.300 Kinder und Jugendliche mit den Konzepten der Inklusion und Integration im TDCC betreut. Das TDCC besteht aus einer Grundschule, beschützende Werkstätten, Secondary School, Kindergarten und einem Wohnheim. Fünf Schulbusse sind täglich im Einsatz, um etwa 300 Kinder innerhalb der Stadt Enugu zur Schule zu bringen und wieder nach Hause zu fahren. Dies bedeutet eine immense Herausforderung auf unseren häufig sehr schlechten Straßen, sowie unsere veralteten Schulbusse. ... Esther Ebigbo, die Tochter, von Hildegard Ebigbo, die in Nigeria aufgewachsen ist und dort Psychologie studiert hat, ist inzwischen Hildegard's Stellvertreterin am TDCC geworden. Ihre ersten Freundinnen waren Mädchen mit Hörbehinderung. Unsere Familie wohnte 11 Jahre lang auf dem Schulhof - im Schulbetrieb mit. Dies war immens wichtig, in der Zeit, als die Einrichtung aufgebaut wurde und Mitarbeiter angelernt werden mussten. Die Schule hat durch die Mitarbeit von Esther eine hoffnungsvolle und gute Perspektive gewonnen. Am 1. April erlitten wir einen großen Schock, als unsere dienstälteste Mitarbeiterin nach einwöchiger, schwerer Krankheit starb. "Aunty Schola", wie sie von allen genannt wurde, arbeitete 34 Hare in unserer Einrichtung mit. Sie kam als junge Frau zu uns und wurde eine zuverlässige und loyale Mitarbeiterin, die bereit war, in verschiedensten Bereichen Verantwortung zu übernehmen. Wir erklärten ihren Beerdigungstag zu einem schulfreien Tag. Wenn Du hierzu mehr erfahren möchtest, lies in unserem Rundbrief 2019, doch einfach weiter! p>

p>
NEWS UPDATE NIGERIA
Der Rundbrief 2019 kann absofort eingesehen werden
GEGENWÄRTIGE LAGE IN NIGERIA: Im vergangenen Frühjahr fanden in Nigeria auf Landes- und Bundesebene Wahlen statt. Der jetzige Präsident wurde wieder gewählt, ebesno viele Gouvaneure. Letztendlich hat sich kaum etwas verändert durch diese Wahlen. Das Land hat weiterhin große Sicherheitsprobleme. Die Terroristengruppe Boko Haram im Nordosten Nigerias ist immernoch aktiv. Die nomadisierenden Viehzüchter vom Stamm der Fulanis, die früher friedlich mit ihren Kuhherden von Dorf zu Dorf zogen, wurden militarisiert und sind jetzt durch ihre bewaffneten Überfälle auf Dörfer in ganz Nigeria zu einer Gefahr geworden. Die größten Probleme für jeden Menschen hier in Nigeria, sind die zunehmenden Entführungen mit einhergehenden Lösegelderpressungen. Dies ist ein lukratives Geschäft für Kriminelle geworden. Die Infrastruktur hat sich ebenfalls kaum verbessert. Stromausfälle, trockene Wasserleitungen und katastrophale Straßenzustände sind der Alltag hier. Nigeria hat an die 200 Millionen Einwohner. Davon leben, den neuesten Statistiken nach, etwa 9 Millionen Menschen in extremer Armut. Das ist beinahe die Hälfte der Bevölkerung. (World Poverty Report, 07.10.2019) Trotz aller Probleme sind viele Nigerianer voller Hoffnung und versuchen glücklich zu sein. Sie haben ihr herzhaftes Lachen nicht verlernt. Wenn Du hierzu mehr erfahren möchtest, lies in unserem Rundbrief 2019, doch einfach weiter! p>